Bead Books 2
Beads and Lace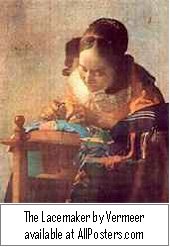 Bead books 2 continues our excursion of books on beading techniques. Beadwork of such wonderous variety! The list below illustrates some newly available books and
a few dog-earred from our own collections, along with suggestions of where to seek out additional information.
It is Bead-media's belief that the enjoyment of beadwork is enhanced by adventures in multiple medias! Investigate traditional stitches and those worked in new ways; dabble, design and develop your ideas! We hope you will enjoy our books and eBooks and also investigate lists at your favorite bead seller or bead guild. If you are then still seeking, review our page on How to Find a Book.
Return to Bead Books 1: Bead Embroidery
Advance by clicking on the 'next' button at the bottom of this page.
Bead Books 2: Beads and Lace

Picot Lace ISBN 0964239507
Picot Lace Designs I ISBN 0964239515
Picot Lace Designs II ISBN 0964239523
All by Sandy Forrington, an Embellishment show alumni and teacher of beadcraft. Each has VERY LARGE Type and is well graphed. These books of bead picot lace are an inspiration to the creators of wearable art; beautiful patterns for lovely, fully beaded lace.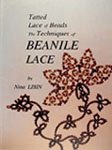 Tatted Lace of Beads, the Techniques of Beanile Lace
Nina G. Libin
ISBN 0916896935
37 complete projects for shuttle tatting with and without beads plus 14 sample/training exercises to obtain necessary skills for making Beanile Lace. So beautiful and inspiring to wearable art! Keep a watchful eye on schedules for needlework conventions, Ms. Libin teaches beaded lace, basic tatting, tatting with beads, and Beanile jewelry for advanced tatters. The price of this book published by LACIS in 1998 has been bid up to extraordinary heights at auction, when it can found quite reasonably on the Beanile Lace website http://www.beanile.com/index.html (click image). On her website, Ms. Libin offers a tatting shuttle that will hold 7 - 8 meters (yards) of thread and up to 500 seed beads!
Learn How to use a Bead Spinner

Georgia Seitz knows all Tatters love Beads!
Visit her wonderful FREE Online Tatting Class at http://www.georgiaseitz.com. Ms. Seitz shares colorful imagery and excellent guidance (Click photo). Be advised that the class site is under revision. The new class began September 12/13, 2004, but old links will remain active for several weeks. Prior years' reference index is available at this generous web oasis. Plenty of learning here, and tatting with Beads!
The amazing delicacy of threadwork has been around for a long, long time in the arts of lace, tatting, knotting and netting with many opportunities for beads. Guilds, societies, weblinks and artists' own websites are excellent resources for guidance, inspiration, and community. Here are a few sites to begin your own rhythm:

The Lace Fairy
beginner's guide
Knots Indeed
Arachne's Web
International Old Lacers
The Lace Guild
eTatter's webring
Lace webring
http://lace.lacefairy.com/
http://lace.lacefairy.com/BeginGuide.html
http://knotsindeed.com/index.html
http://www.arachne.com/
http://www.internationaloldlacers.org/
http://www.laceguild.demon.co.uk/ http://a.webring.com/webring?index&ring=etatters
http://www.ringsurf.com/netring?ring=lace;action=list

Tatting Adventures with Beads for needle & shuttle
Judith Connors
This latest book by Judith Connors containing a combination of traditional and contemporary patterns. Ms. Connors explains the techniques of tatting, and tats with beads! Good explanations both needle tatting and hook tatting techniques (and patterns). Click on the image to see this and other great tatting books at the wonderful Lacis.com; Judith Connors' prior book is still in print: Beads in Tatting

Needle Lace: Techniques & Inspirations
Jill Nordfors Clark
ISBN 0965824853
Both a survey and techniques book (my favorite kind); one can view a wide variety of possibilities along with learning the various stitches (an extraordinarily inspiring book!). Needle lace, unlike surface embroidery, is attached to a background fabric or frame only during construction. This frees the embroiderer to create multiple layers, combine other techniques, incorporate BEADS, fabric painting or other embellishment.
Ms. Nordfors Clarks first book: Needle Lace and Needleweaving: A New Look at Traditional Stitches (1974 ISBN 0442260598), can still be found (inexpensively at Amazon-used, or try the public library). It is a classic and inspiring introductory text.
Needle-Made Laces and Net Embroideries
Doris Campbell Preston
ISBN: 0486247082 Dover Publications, 1984
This classic stitch guide gives complete stitch diagrams for beautiful designs of single-thread and needle style of lace-making. Reticella Work, Carrickmacross Lace, Princess Lace, Irish crochet, tatting, tambour Limerick, filet lace and more. 77 black-and-white illustrations. No beads, no projects, but excellent technical knowledge for recognizing stitches and expanding needle knowledge.
Now, reach for the beads!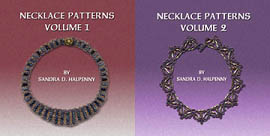 Necklace Patterns, Volume 1
Necklace Patterns, Volume 2
Sandra D. Halpenny
For the love of beaded lace and bead lace needleweaving, I would feel remise without mentioning the beautiful work of bead artist,
Sandra D. Halpenny. Stunning variety of necklace patterns in
.pdf format offered on a CD (compact disk). Click on the image to be brought to
Crafting-books.com and select Sandra D. Halpenny from the drop down menu in the search box to be brought to item number 287. Individual necklace patterns are available at sister site, Bead-patterns.com click on the search box and select
Sandra D. Halpenny from the drop down list to view several pages of lace and picot bead necklace designs (some free patterns). Ms. Halpenny's good advice makes beaders of all levels welcome, she says "Don't be afraid to try new and different things. Beads are reusable and thread is cheap. The fun comes in the challenge and the doing." Read the full article at Bead-patterns.com
Learn about CD books, .pdf format and download the free Adobe Acrobat Reader software from our page: How to Find a Book return to top of Bead Books 2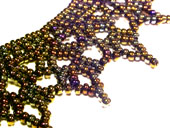 As you build skills and begin to play with your own ideas for beaded lace, keep your sketchbook handy. An ordinary number 2 pencil and an art gum eraser (or any eraser that does not abrade the paper, as you make necessary adjustments) will help you record your motif, so that you can repeat the pattern.
A sketchbook is also handy for recording inspiration. As you become familiar with beaded lace you may see ideas for motifs in grillwork, in architecture, in a hanging vine, in the configuration of flowers, or even the concrete at one's feet.

A Netting Primer
Vicki Starr
ISBN 188978902X
Concepts in simple beaded netting are available in many, many beading books. One of the first I enjoyed was this narrow Netting Primer, which is part of the Beady Eyed Women's Guide to Exquisite Beadwork series. This is a good book for beginners and a good fundamental netting reference for your bead library; illustrations are clearly presented. You can read about Jeanette Cook & Vicki Starr's full series on the prolific Internet eZine: The Bead Bugle Bead-Patterns.com has 3-bead netting graph paper for .pdf download in a convenient 8-1/2 x 11 size. Type graph paper into their search field to find bead artist,
Chris Prussings' item number 8919, as well as many other graph papers.

Netting All The Way
Varvara Konstantinov
Step-by-step instructions for making over 30 necklaces, bracelets and earrings using basic netting stitch, by the extraordinarily talented Varvara. You may be familiar with her previous two books: Coraling Technique, and My Beaded Garden, both available on Amazon.com. Click the image to view Varvara's own website of patterns, instruction, and ready-to-wear designs (don't miss her listing of beading books from Russia). Varvara is known for her CLEAR and CONCISE directions, and her clever, inventive and compliment-invoking designs. Read about fellow artists, Varvara Konstantinov and Galina Barsky on Designer Spotlight at Bead-patterns.com.

Galina Barsky designs stunningly beautiful lace-like beadwork with clear directions. Click the image to be brought to Bead-patterns.com. Choose Galina Barsky from the drop-down box in the Search field to find this "Scarab Necklace" item number 5840, and many more individual patterns.

The New Beadweaving
ISBN 1402708181
Well known bead artist, Ann Benson, offers filet beading, as well as surface beading and loom weaving, detailing the basic techniques of each with clear, easy-to-understand explanations. Note also the superb generosity of the Beading Primers on Ms. Benson's website. View Filet Beading, bead embroidery, Beadpoint, and much more. Many of us have learned quite a bit from Ann Benson's variety of books and greatly appreciate the free Beadwork Primers.
I cannot help but push the envelope just a little and suggest that lacey beads, tatting, netting and knotting need not be limited to traditional shapes. Consider the amazing:

SPRANG, LANGUAGE & TECHNIQUE
Revised Third Edition, Jules Kliot
ISBN 1891656465
An ancient technique (almost 3500 yrs), Sprang is a net type fabric formed solely from parallel warp strands stretched between two supports. Believed to be the forerunner of bobbin lace, it is described with detailed instructions using a wide range of materials. This edition includes a gallery of pictures from the 1974 "Fiber Allusions" show. Click on the image to reach the book page at Lacis.com.
Old book? Yes, but old concept too, and one that is reinvented constantly in both practical and artful ways. Stretch your art imagination by viewing what the lacemaker, the tatter, the fiberartist, perhaps even what the sailor, might do with their fine knots; then you add the beads. Ideas for shapes abound!
See Knots Indeed to understand this wonderful art and for free education on netting! http://knotsindeed.com/index.html
Note that Jules Kliot & Kaethe Kliot created Beaded Bags and More and many more wonderful knotting, netting, lace and stitchery books. These are not fancy photo books, but edited reprints of older stitchery booklets with solid information and commentary (what a joy!) Note what looks interesting (& the ISBN numbers) and get thee to the Library. or http://www.lacis.com
Prior Page: Bead Books: Bead Embroidery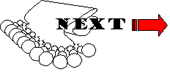 Is that not a tatting shuttle?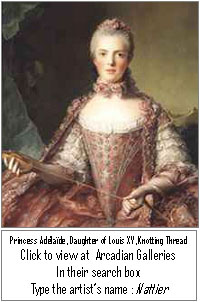 Some of the beaded lace, needle-lace, and netting techniques will pick up beads as they progress through the stitch. Other tatting, lace or netting techniques may require the beads to be on the fiber before the knot is made. The beads are loaded onto the line before the lace or net is begun (similar to when knitting or crocheting with beads). Using a Bead Spinner to run the beads onto the line may be quite useful, see our page on How to use a Bead Spinner.
And, what about Beads on existing lace? Often called reEmbroidered lace, this beaded and often ribbon festooned lace can be quite expensive yet you can use a variety of bead embroidery, silk embroidery and ribbon embroidery techniques to 'reEmbroider' store bought lace, making your own heirloom-quality goods.
Do you Knot Bead Embroidery?