Bead Store
Retail and Wholesale Beads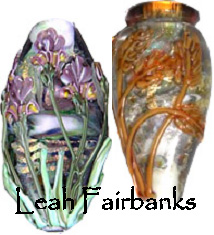 Sellers in your favorite bead store are often exquisitely knowledgeable about their beads. Some do a particularly vivid presentation online so we have listed them here. A bead store can be a seller at retail, or wholesale beads, or both. Read their descriptions carefully and look for their schedules of bead shows, articles and website galleries.
If you are new to this craft, keep in mind that your bead-ability is not defined by the quantity of your purchase. One is not thought of as a beginner if in need of just a few beads, nor is one perceived to be an expert for making a volume purchase. Look and read, ask questions, attend the bead shows, and become familiar with bead store offering a bead at a time, as well as those who sell by lot. It will help you find beads in the amounts you need for your specific project.
The beautiful Lampwork beads (above right) are one-of-a-kind creations from
Leah Fairbanks' Gardens of Glass. Click on the image to visit her website to see how she creates these spectacular Art Beads!
RETAIL BEAD STORE (scroll down for WHOLESALE BEADS)
No guarantees are implied in any way for the content or accuracy of third-party sites.
African Trade Beads



Learn about the old beads that were made in Europe and India and transported to West Africa at this facinating online bead store. Read about the recent buying trip to Kiffa, and enjoy the wonderful photographs and extraordinary variety of ancient beads, very old beads, and current trade beads. Images (not actual size) courtesy of Africa Trade Beads
The Bead Room


Beautiful Vintage Glass, Czech Glass, Lampwork beads, Japanese Seed Beads, Swarovski Crystals in small numbers, perhaps just the amount you need! Images are not actual size, see beads offered by The Bead Room
NOTE: Some beadsellers offer pricing for both retail and wholesale Beads...
Exotic India Art

Gemstone rounds, chunks, chips, cabochons; beautiful India Silver beads & findings offered at both retail and wholesale at this internet bead store. Images (here) are not actual size; view their vibrant! high-resolution photography at Exotic India Art
Polkadot Creations

Polymer clay beads sets as created or have them made to order. Clever polymer clay items, instructional videos, and an excellent listing of books on Polymer Clay techniques at this internet bead store. Images are not actual size; view the beads at Polkadot Creations.
Wire Scupture


Sterling, copper, gold, brass wire as well as cabochons, cameos, fire polished crystals, Bali and Thai silver beads and more. Images are not true size, see beads at
Wire-Scupture.com.
Embroidered Soul


Ceramic beads lovingly handcrafted in Athens, Greece derive their inspiration from Greek architecture, the Mediterranean, and ancient designs at this online bead store. Whether you have a preference for pictorial subjects, symbols, or geometric design elements, there's something here for everyone. Beads are not shown actual size. See the beads at Embroidered Soul.
Auntie's Beads



Austrian crystal, Bali silver, Cats Eye and Czech glass beads; pewter, tensha acrylic, and seed beads in small quantity groups. They have expanded their offerings of Gemstone Beads! Very nice. Auntie's Beads has both retail and wholesale pricing. Beads above are not actual size; Click on the image to see the beads at Auntie's Beads.
NOTE: Some bead sellers offer pricing for both retail and wholesale Beads...
Seed Beads


Many a bead store offer seed beads including some of the ones above. Seed beads come in an extensive variety of sizes, shapes and finishes. Still difficult to photograph these seed size lovelies, particularly when a bead store has so many to offer. Getting out to the bead shows is a great way to become familiar with these facinating (and favorite) beads, or you could click over to our Bead Sample Chart page to click on LINKS to sites with (larger) images of seed bead samples online or offerings of seed bead sample cards for sale. Why not bring a magnifier, or an inexpensive pair of dime store readers (magnifying eye glasses) with you to the bead show and take a very, very close look at these tiny treasures. It will make a world of difference when you return to your desktop and read a bead store's written description of their offerings. Your experience can open up a whole world of bead adventure!
Empyrean Beads has beading supplies and beautiful seed beads from size 6/0 to 15/0, but what is more fascinating, Empyrean is a bead store that seems to have the best of that which is quite small. Tiny, tiny pearls, little gemstones and lovely seed beads in those antique sizes ABOVE 15/0: 16 to 24! If you enjoy cabochon work with graduated sizes, this is one vendor to seek out at the bead shows to see what they have found to share, much of which is available on their website.
Caravan Beads & Fibers http://www.caravanbeads.com/
Both retail and wholesale beads. A full range of Miyuki Delica products!, Swarovski crystal, Czech glass, freshwater pearls, sterling and gold-filled findings.
Shipwreck Beads http://www.shipwreckbeads.com Cloisonne, Fiber Optic beads, pewter, precious metals, seed beads and beading tools.
About Beads http://www.about-beads.com/
Friendly service at this online bead store featuring Japanese Glass Beads by Miyuki, Cylinder Beads and Delicas in 629 Colors; Size 11/0 Seed Beads in 132 Colors, Size 15/0 Seed Beads in 113 Colors, and Bugle Beads in 78 Colors. Need I say more?

Well known in the jewelry making and beading world FMG has a huge selection and superb customer service. They sell to both retail and wholesale buyers. Fire Mountain Gems and Beads features volume price breaks and you can mix and match many items to reach the quantity needed for a discount. Team up with other artists to make a volume purchase. There's a wide selection of gemstone, glass, and other beads, as well as findings, tools and supplies, and instructional books and videos. Fire Mountain Gems has a highly interactive website, with a clever catalog viewer that allows you to flip the pages just like you would with their 928 page catalog. The site also features an extensive gallery of jewelry designs, many with instructions!

Perhaps one might not immediately think of an art supplier as a bead store, but that all depends on what you are looking for. If you seek craft beads (great for making beaded beads), jeweler's pliers, bead boards, wire jigs or Beadalon products you'll find them here along with a myriad of work surfaces, light boards, design transfer tools, fabric paints, full-spectrum lighting, magnification and storage that well serves the bead artist. This fast loading website has excellent, large photographs! Like to try your hand at crafting a lampworked bead? Dick Blick carries a starter kit. Click on the image above, then type 'Beads' in their search box to be brought to their bead supply page or get the Free 480-page Art Supply Catalog!
Wholesale Beads
A wholesale bead store that sells to the trade only requires one to have a wholesaler or resale license. The bead store will state whether they invite the retail buyer to purchase (some do!) Be sure to check whether they require a minimum purchase amount. Retail vs. Wholesale may seem confusing, but you can learn more about business licencing from your (USA) State's tax website, and read the terms at the bead store's site. If a wholesaler states they serve the retail buyer, they will collect any applicable sales tax if you reside in their state.
Touray Beads


Wholesale inquiries only, Touray Beads are direct importers of antique and vintage trade beads, and beads currently produced in Africa today: batik bone from Kenya and modern powder glass beads from Ghana as well as antique Mediterranean coral. click on the image to view the spectacular high-resolution bead galleries at http://www.touraybeads.com
Rings & Things

Wholesale supplier of extraordinary beads from around the world: Africa Trade Beads to Toho Seed Beads from Japan; this is a simply amazing bead store. Take time to peruse their new glossary of gemstone beads: descriptions and images for 170 separate entries! Images above are not actual size; click on the image to view the beads at http://www.rings-things.com
Znet Shows http://www.znetshows.com
Both retail and wholesale beads: extraordinary gemstones of traditional and unusual shapes and ready-made jewelry at this online bead store.
iBead http://www.ibead.com/
Direct importer and wholesale bead distributor.