Magnification
for Beadcraft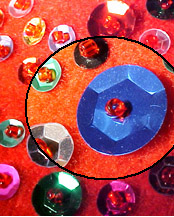 A good light and magnification go hand in hand for arts that require a close view. Having an excellent good look enhances the precision of craft, the adventure of trying new techniques, and the joy of stitching with beads. There are many good lights that come with magnifiers, although a separate magnifier may also fit your needs. Choose your equipment to what conforms to your comfort when creating in your Bead Studio or when traveling with beads.
Lucky for us, there are several types of magnifiers developed for sewing, needlework, jewelry making and other close-view craft that serves the bead artist quite well. The variety is a boon to the artist as one of the luxuries of beadwork is that it can be done at bench, at studio table, in your most comfortable chair, or when traveling. We celebrate your excellent eyesight (with greatest respect), yet understand that magnification not only helps to view, it assists for superb recognition of creative opportunities in every aspect of bead craft; hands free magnification is a joy, let the ideas flow!
No guarantees are implied in any way for the content or accuracy of third-party sites.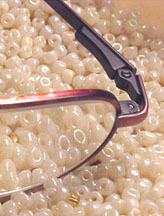 The most portable, a least expensive magnifiers we've come across are dime-store readers. These are the generic magnifying eyeglasses or half glasses in various styles that are graded by magnification:
1x to 5x power in incremental steps. We've linked here to a multiple page display of Magnifiers at Amazon.com but know that you can find generic magnifying eyeglasses at discount stores and pharmacies, the clip on versions (below) at Joann.com or CreateForLess.com
and other suppliers.
For those of us already in prescription glasses, there is an inexpensive clip-on counterpart: Clip On Magnifiers attach to one's eyeglasses with an easy squeeze clamp and most models will allow you to flip up the lense out of the way. Found in magnification strengths of 1x through 4x; do take the time to notice the magnification level, it should be noted in the text or on the packaging.
Clip on Magnifiers are lightweight and travel well in their carrying sleeve. The photo is courtesy of Joann.com Click on the image and type Magnifier into their search box to see their full selection of 1x to 4x Clip-on Magnifiers as well as visor magnifiers, standing, frame and table magnifiers and light/magnifier combos.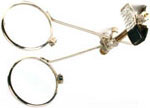 Clip on Jeweler's lupes may be an interesting option. The image left shows a clip on with two lenses but I've seen versions with three or four. Magnification levels from 1x to 10x, they can be found under jewelry or watchmaker's supply, through Amazon.com or eBay
or perhaps your local swap meet.

The three visor magnifiers above are Mag-Eyes, Magna-Visor, and OptiVisor, respectively; all very good and there are more brands out there. Magnification levels from 1x to 10x; be sure to read descriptions to select the lense power and type useful to you. A visor magnifier that includes eye coverage (the two on the right) are a joy when grinding, sanding, welding, fusing, spliting, or otherwise need excellent magnification with eye protection. Images courtesy of Amazon.com;
and know that visor magnifiers are widely available.

Standing magnifiers are a great help. Some are adjustable; some even come with a light attached. Note that with non-adjustable tabletop magnifiers, it is important to consider whether they fit your style of working (at bench, on hoop, at frame, on loom, in hand, etc.) Many artists use a variety of magnifiers, each fitting an aspect of their craft. As you develop your own bead studio (large or small) or expand into new media, instead of contorting to fit the tool, find the magnifying tool that conform to your style of working. Click on the picture to pursue more information regarding these versions (images courtesy of Amazon.com).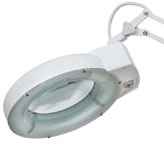 I've used both the
Ott lite and swing arm styles of magnification lamps and feel they are both effective. I favor my Ott Lite as it is so very portable (fits in backpack or tote) carrying it along to Beading Bees and other opportunities for community in Beadwork. Images courtesy of
Dick Blick Art Materials.
(Type: lighting into their search box to view their full range of light & magnification combinations).

Many needleworkers will recognize the image (left) of a metal Reading Stand. The thin lucite line reader serves both as a magnifier and a magnet to hold the stitching pattern. The image (right) is of a tabletop Bar Magnifier, which works much the same way when placed over a pattern resting flat. If you have access to a photocopy machine, enlarging tiny beadwork patterns may be easier than using a line reader, but they can still useful. For example, when designing by hand, a true bead size graph paper can be enlightening (helping to understand all over design and color concept).

Bead-patterns.com has bead graph paper for free
download for a variety of bead stitches; just type: graph paper into their search box. Without a photocopier, a Bar Magnifier (with or without a stand) can be very helpful to comfortably read a bead design line by line.

Last, but by no means least, are electronic options.
I first observed this union of camera and computer developed for low-sight individuals years ago when the equipment was HUGE! Now sleek (but not yet cheap) camera-aided magnification that can be transmitted to the computer screen prompts two immediate ideas that are indeed thrilling: (1) the ability to share high magnification (recording, display & projection) of craft technique that is difficult to see, and 2) the joy knowing there are many more levels of magnification possible: myself and fellow 'grown' artists will be beading for a good long time to come!
Where to find magnifiers? We've mentioned a few resources above and consider your favorite bead seller, needlework shop, or favorite fabric source such as the excellent discount Fabric.com
Many places that carry the full-spectrum Ott lite and other good lights, may have magnifiers as well. And, of course, once familiar with what is commonly available, you can always search on eBay.

American Science & Surplus (http://www.sciplus.com) has a website full of clever useful bits of this and that. They are an unexpected source for magnifiers, containers and many kinds of tools. If you would enjoy some armchair scrounging, their hardcopy catalog is an entertaining read. Surplus scientific supply can been an interesting option in crafting. Science and art, who knew?