Bead Shows

For Beadworkers of all kinds the interest generated by Bead Shows is a happy and palpable excitement! Artists, bead sellers, bead aficionados, rock hounds, jewelry and costume makers all mingle for access to the bead sellers' bright wares, exhibits, and opportunities.
Why would you want to attend?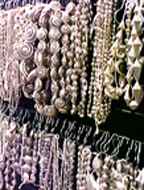 OOHHH! The Beads! Silver and Vermeil and metals of every kind, Pearls and Gemstones, Seed Beads and Crystals, piles of the treasured Swarovski in volumes that could make one hyperventilate! (Perhaps I as a pirate in a former life; I so enjoy the opulence) - and the inspiration! Reward yourself with a lesson in beadwork technique; bring your sketchbook and digital camera to record ideas on the spot. And, meet bead artists, bead makers, creative vendors, and knowledgeable wholesalers. What a great beady afternoon!

Local Bead Sellers may sponsor shows, inquire the next time you shop. Many bead artists will post their bead show teaching schedules on their websites; and some wholesalers present their own individual shows. A good example is the

extraordinary Rings & Things who present their own Trunk Show. They fill a large banquet room at a hotel with thousands of strands of trade beads, pearls, turquoise, gemstones, and interesting glass beads of all kinds. Wanna go? You can be included in this invitation only event, if you show your resale licence at the door.

Become aware of the national traveling bead shows that regularly commune (see list below)
or subscribe to Colored Stone to automatically receive the guides to the large Tucson shows. Getting to know your local bead society is always a good idea, and they may know the shows that are available regionally.
If you are new to beading don't hesitate to

get on the mailing lists of the larger regional or national shows. Access is judged by retail and wholesale components: if you're not a licenced wholesale reseller, you attend in the retail segment. There is no assumption regarding your personal beading experience; you may be


surprised at how very welcome you are.
The Caveats: Most shows are open to the public, however, certain shows, or sections of shows, are advertised as for the Trade Only, which restrict entry to wholesalers (those with a resale license). A license is not hard to obtain (through your state's tax website).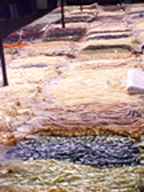 It allows you
to purchase without paying sales tax, with the understanding that you will follow your state's recordkeeping rules and charge your customer the sales tax at the time you sell your goods.
If you are drawn to beads and experience a state of thrall in your local bead store, imagine
the sensation of facing table after table of well-lit beads, heaped and sparkling like you've entered a treasure trove! It can feel exquisitely overwhelming. Know thyself is the best advice.
If you are there on a specific mission of purchase, write down what you meant to buy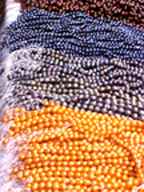 (before you get distracted). If you are on a budget, make a plan or leave the plastic money at home. If you are looking for specific types of beads, bring your design book (maybe a few colored pencils) with you; you may want to record new inspirations!
For some of us, the excitement of even the
smallest of bead shows is a marathon experience in adrenalin. Inhale and exhale, pack a water bottle, set any budget limits before you leave home: then immerse yourself in the marketplace!
Bead Shows: This list is not exhaustive. Check with your local bead store and bead society for bead shows in your area.

The Whole Bead Show open to retail AND wholesale buyers. Wonderful traveling show; exhibitor registration, show schedule hits many cities and forms for class registration are available on their website. Just click on the show that you want to register for and then print the .pdf
Lapidary Journal's BeadFest will be held October 8, 9, & 10, 2004 at the Fort Washington Expo Center, 1100 Virginia Drive, Fort Washington, PA. Bead show and impressive classes. Instructors and classes for 2004 are posted on the website. This annual event is well worth a visit!
Expedia.com has many travel offerings and can help you make arrangements for car, hotel and airfare.

International Gem & Jewelry Show In 30 major cities across the United States and through approximately
80 shows every year, an estimated one-half million people annually pass into this world famous bazaar! These are wonderful shows with an extraordinary range of wonderful beads, jewelry, and lapidary! Each of shows has two sections: one open to the public and one for trade. For admission to the separate section called The Trade Room, you must fill out a Registration Card and bring your business card along with a copy of your tax exception permit/license.

Bead and Button Show! The first Bead & Button Show (held May 2004) was a brilliant success with over 15,000 bead enthusiasts attending! How wonderful that this 'first' will now be repeated in 2005! The 2004 Show offered approximately 300 classes from basic beading to advanced techniques in bead jewelry. Join this great community June 12-19, 2005 (in Milwaukee, Wisconsin at the Midwest Airlines Center). Email list and registration available at Bead and Button.

Bead Expo website for May 18 – 22, 2005 will be up in early Fall, but you can click over to explore the 2004 info; some workshops & vendors may change but the layout will be similar for this annual event. You can register on the website to be put on their mailing list. Bead Expo is produced by Recursos de Santa Fe, a nonprofit 501c3 organization, in collaboration with other professional bead groups. Proceeds benefit research and educational projects.
Expedia.com can help with travel plans.

Intergalactic Bead Shows Check out their website for places and dates. They say: "Non-bead items will not be for sale there. Past shows have offered a multifarious and comprehensive selection of beads and bead related items which will be mirrored at future shows."