Necklace Lengths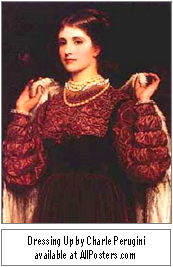 Necklace lengths, in our current era, have more to do with personal preference than fashion requirements. Few will be mortified
if you wear Opera-length baubles in the afternoon, in fact, many only notice the
names for necklace lengths when purchasing a traditional strand of pearls.
When you are creating your own jewelry designs, the ability to adjust standard sizes
is an artistic freedom and kind service to the recipient. Traditional names of Princess, Opera, and Matinee refer to a Lady's beads. When designing for gentleman, forego the names and consider the drape. Whereas I enjoy handling a full rope or lariat, a great many men (and women) seek a size that lies upon the chest at a manageable span with which they need not fuss. Testing a bead design before producing your work for a craft show can be enlightening. General measurements listed below with traditional names for assistance in communication.
This page: Necklace Lengths
or jump to List of Sizes/Conversions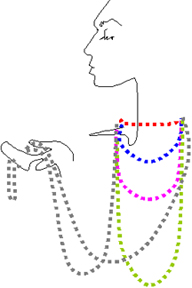 13" to 16" Collar & Choker lengths should be comfortably close fitting, lying above the collar bone, or up on the neck.
17" to 19" The Princess length is probably the most common necklace seen in the graduated strand, although any style necklace can be made in this standard length, which rests beautifully just over the collar bone.
20" to 24" The Matinee is a lovely drape of beads most definitely on the chest, a length still sufficiently sportive to be worn for daytime activities, as opposed to the...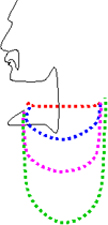 28" to 32" Opera length strand, which may
drape extravagantly to one's mid-section or more:
a necklace that adds opulence to one's most festive attire.
Over 45" The Lariat or Rope is a long string of beads, which can be looped, wrapped or draped, as one is inspired. What is the difference? A Rope may or may not have a clasp; a Lariat is an extraordinary length without a clasp.
return to top of Necklace Lengths

The Graduated Strand
Each bead, or every few beads, decreasing in size with the largest at front as the focal point (or central focus) of the necklace. Graduated strands can be created in many variations: as a single row of beads or with multiple strands and are not limited to round beads (many include dangles, spacers, and with a variety of bead types). What defines this necklace shape is the graduated sizes from front to back.

A simple sliding pocket caliper, useful for quick outside measurements, can be wonderful addition carry along with your Idea Journal to Bead Shows.
Multiple Strand Necklaces
Neck pieces with more than one strand of beads can have each row as a graduated strand presenting a look of precision, or have multiple strands the same or varied length connected to their clasps in various succession to present a playful jumble of interesting shapes.