Wrap a Package
How to Wrap a Holiday Package

Bead craft is certainly wonderful for gift giving. Whether it is a birthday, anniversary or the end-of-year holidays, it is helpful to review
How to Wrap a Package.
Roll out the wrapping paper, wrong side up, and place the gift box on it upside down. (We will be turning it right side up again after wrapping).
1. Measure the wrapping paper so that it reaches GREATER than halfway up the box at the sides.
Center the box.
The length is measured in a similar fashion: each end should reach about 3/4th over the top of the box.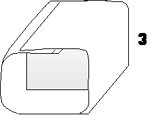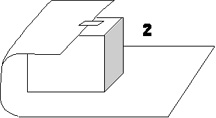 2. Begin with the top:
Fold one end 3/4ths over the top of the box and secure with tape.
3. Check the length by bringing the other end of the paper up around the box (it should reach about 3/4th across the top of the package).
4. Let the side back down, fold up a short hem and crease the paper.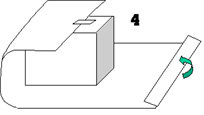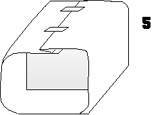 5. Matching up side edges, snug paper around box and tape close.
6. If you prefer, the tape can be hidden with this easy trick. After double checking the length and folding the edge, apply the tape to
the edge facing out.
7. As you are closing the paper around the box, fold the tape back, tuck it in and finger press
the paper's edge.
8. One side at time,
fold sides down and tape. Using two hands, flatten paper against box, then crease the side edges.
9. One side at a time,
fold sides in and crease.
A piece of tape helps hold the side in place.
10. You will be folding up this final corner. Decide whether you will simply tape it, or hide the tape using the same fold back technique as in Step 6.
11. Turn the package right side up. Ready for the Ribbon Trim and Beads of course!