Bead Study & Resources
for the multi-media artist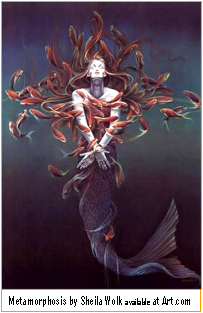 Bead Study for the multi-media artist includes not only knowledge of beads and how they are used in traditional and novel ways, but also exposure, examination, and inspiration from other fields of expression from fine art through handicraft, fibers to fabric, paper, metal and all media in-between.
The artist's inspiration is carried forth into his or her own work as is the sense of feeling oneself privileged in the experience. Many ways to approach beads and art for wearing, and it is a good thing to share.
BEAD MUSEUMS
Quite amazingly, bead museums hold a substantial representation of the world's history in Beads. Here are several with accessible collections; many of the museums have online galleries for bead study.
BEAD GLOSSARY
What do you need to know about beads? A Bead Glossary describes bead names and size, shape, finish and how they are sold. We've tried to show examples and list websites that have excellent images of the beads described. Reading a bead seller's Bead Glossary is recommended, as they often most knowledgeable about the beads they present.
BEAD SHOWS
Interweave BeadFest International Gem and Jewelry Show
Bead and Button Jewelry Show Guide Intergalactic Bead Show
American Gem Expo Rings and Things
BEADING BOOKS
Books on beadwork techniques abound! The titles we list are pulled from personal libraries or are newly arriving to market. Both Beadwork and associated crafts are represented. Like to learn to search on your own, or find a book without cost?
Check our page about How to Find a Book.
GARMENT STUDY
Vintage Textile.com
The Costume Institute

Metropolitan Museum of Art, Collections

Beaded Costume
Antique Dress Gallery

Bert Christensen's Illustrations Gallery
The Art of the Embroiderer

1915 Lavin Evening Coat at VintageGriffin.com
Beads in Fashion 1900-2000 (Schiffer Book for Collectors)
BEAD MAGAZINES and Craft, Sewing, Fiber too
Bead-Patterns the Magazine Art Doll Quarterly Bead and Button Beadwork Lapidary Journal Step by Step Beads
Surface Design Journal Threads Vogue Patterns
Link list of Fiber Arts magazines from FiberArtsOnline.com
Costume Journal : a Publication of the Costume Society

Burda Plus (complete patterns in the magazine)
Burda World of Fashion Polymer Cafe magazine
NEEDLEWORK STUDY & TUTORIALS
Embroiderer's Guild of America Smocking Arts Guild of America
SCA West Kingdom Needlework Mirror Work & Embroideries of Kutch, India Or Nue, Goldwork Techniques Russian Pearl Embroidery Surface Design Association Royal School of Needlework UK
Lacis: Museum of Lace The Lace Museum
STITCH DICTIONARIES
Sharon b's, In a Minute Ago Pretty Impressive Stuff
Embroiderers' Guild UK Blackwork Embroidery Archives
Therese de Dillmont: Encyclopedia of Needlework (Gutenberg)
Handbook of Embroidery (Gutenberg)
The Lady's Album of Fancy Work (Gutenberg)
Beeton's Book of Needlework (Gutenberg)
Needle – animated stitches
SEWING SKILLS
The Costumer's Manifesto
Leena Studio: The Duct Tape Dummy
The Renaissance Tailor's basic sewing techniques
Association of Sewing & Design Professionals
Vintage Sewing Reference Library
American Sewing Guild
David Page Coffin perfect your own Shirt & Trouser construction
SmartFlix - rent instructional video
Flatlining or Flat Lining (how-to)
SEWING PATTERNS & COMMUNITY
PatternReview.com an extraordinary community
Burda Style free patterns and sewing forums
Vintage Pattern Lending Library
Replica patterns for purchase to guests and purchase or loan to Library members
Vogue Patterns large images, line drawings & Club BMV
Club BMV discounts on Vogue, Butterick, McCalls with truly significant sales
Islander Sewing Systems (patterns and industry guidance)
Perfect your own shirt or trouser construction with books/DVDs of David Page Coffin
Connie Crawford
at Butterick, on her own website, in her design, construction, fitting books / videos.


return to top of page

HOME