Ott Light
Daylight lamps, Full Spectrum lighting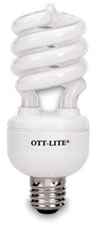 Ott Light or rather, Ott Lite, is a trade name for a type of full spectrum lighting, which can be a tremendous assist to the artist working with beads, floss, ribbon, wire or other close work. Excellent lighting, combined with magnification, is such a significant boon that many beadwork artists feel they are requisite tools.
Dick Blick Art Materials
has the most succinct explanation: "Truecolor lighting technology uses specially formulated rare earth phosphers to create a light source that is low in glare, allowing for better definition of details and more accurate color rendering".
The hubbub is a little more comprehensible understanding that
Dr. John N. Ott was a photobiologist who studied, developed, promoted the benefits of full spectrum light. He made a swell lamp.
Whether you choose an Ott light, a True Color, full-spectrum, incandescent or a plain 'ol florescent lighting option, the point is that an excellent close view is extraordinarily helpful in beadwork. A good light and magnification are worthy investments. There are a great many styles from studio lighting to table lamps, standing floor lamps and smaller lights that can clip directly on a large bead loom, a jeweler's bench, a needlework stand, a slate or quilt frame. Ott Lite bulbs with standard fittings are also sold. Be sure to measure the length of the bulb you are replacing as the fitting (the screw in part) comes in standard sizes but your lampshade or lamp shape may need a particular length bulb.
No guarantees are implied in any way for the content or accuracy of third-party sites.
Lighting @ joann.com
Very large selection of table lamps, floor lamps and clip-on lamps; many effective light options here to match work styles and home decor.
Lighting @ AllBrands.com
Select "Lamps" from their left hand column to see their full display of full-spectrum desk lamps, floor lamps and clip-on lamps.
Lighting @ Dick Blick Art Materials
Type "Lighting" in their search box for an extraordinary selection of full-spectrum lighting for the Artist.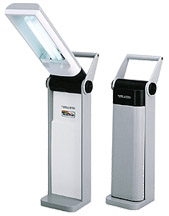 I've used several full-spectrum lights and must admit that the one I favor is the Ott Lite Flip Up Task Lamp. The portability is an attractive asset of this Ott light and it folds flat with the bulb protected. Wrapping the cord around, it is tucked in my backpack or rolling tote to use when attending Beading Bees, a needlework guild or just getting outside on a balmy evening on the back deck. Do mark your name, as yours won't be the only Ott Light at a bead event
(& remember an extension cord!). Bringing along good light assures an excellent view of one's beadwork, even when away from home. Since finding this model, I've enjoyed the comradery of a great many more events knowing there will, indeed, be plenty of light with which to work.

The Portable Ott Lite Task Lamp also has a version with a Flip UP Magnifier. This could be a convenience (depending on how you hold your work) as it combines both magnification and full spectrum lighting into one unit. A good light and magnification go hand in hand. There are many options for magnification so we've prepared a separate page regarding Magnifiers for Beadwork

There are many clip on lamps but check out the task size of the Ultimate C-Clamp lamp! It is a bright, focused halogen light from the Sunnex Company that has supplied high quality halogen lamps to medical industries for a quarter century. It has a C-clamp mount for attaching to a beadwork table, standing frame, or jeweler's bench and a flexible gooseneck aims it precisely;
a dimmer switch controls the brightness. When the fog rolls in at our
San Francisco studio, and I can just turn up the brightness on this task light,
I say thank you! The image is courtesy of Dick Blick Art Supply, where you can find this art light and many other models.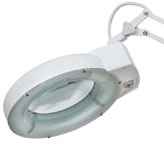 This heavy-duty illuminated magnifier lamp has a 5" diameter glass lens and 22 watt circline fluorescent bulb. It provides hands-free illumination for the artist, and the convenience of a magnifier and lamp together. I used this type of lamp for years (before the advent of the Ott light) with great success. This model, lighter weight lamps and many other versions, are available from Dick Blick Art Materials. Such styles may also be available at your local hardware store, drafting supply or lighting facility.
Other places one could find (and comparison shop) for an Ott light, another good light, or a lamp with both light and magnification, is at your bead seller, your favorite needlework or fabric store; and of course, once familiar with what's commonly available, one can always search on eBay.

Use a magnifier, allow plenty of light; improve the quality of that light and, if you can, choose the lamp convenient to the way you prefer to work
(at bench, on hoop, at frame, on loom, in hand, etc.)
Amazon.com has a full page dedicated to Ott-Lite Technology