Beaded Handbag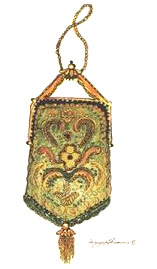 A beaded handbag or beaded purse has been a prized possession for generations. The Beads can be a minor embellishment or the bag may be made completely of beads. A beaded handbag may be a traditional symbol made of modern materials, a bit of history from the glittering past, or new creative spark in your own artistic expression.
Skills needed for making your own beaded purse include attaching the beadwork
and lining to the frame (if any), connecting the handle/straps and closure; and creating the bag with your favored beading technique. Bead embroidery, loom and off-loom bead weaving; bead crochet and bead knitting skills, as well as wirework and linking chain mail can all be used to create a beaded handbag.
A purse is a perfect size for learning new beadwork technique. It is hoped that any spark you find here will inspire you to create beadwork and enhance your own wardrobe.
Vintage Handbags There are many precious historic and creative examples of beaded bags accessible for bead study on the web. Permissions to link are almost complete. We appreciate your patience as we ready our page for loading.
Making a Beaded Handbag Resources for handbag frames and fabrics; patterns for beaded handbags and lessons on bead techniques for beaded hand bags are all in the works. Our own directions plus permissions to link to excellent informative sites are nearly complete. We appreciate your patience as we ready our pages for loading.

Modern Beaded Handbag includes bags that are made in the vintage style, as well as modern beaded bags of many shapes both embroidered and solidly beaded. While we ready our page on the variety of current era beaded purses, we have links to three pages of modern ready-made bags that offer excellent detailed images for bead study.
The Mary Frances handbags are a creative novelty and very much a multi-media delight. Careful detail and interesting components make these bags particularly inspiring.
The Yasmena Bag is one designer's clever idea on addressing an evening out when one wanted to keep their purse (literally) in hand. These are an examples of both beaded outline embroidery and of solid bead embroidery. Our last example from the generous imagery of Ebags, are the La Regale handbags which are the modern-style beaded purse. The price point of La Regale is particularly accessible, and shows that modern styling and interesting shapes are no less inspiring. Thanks to Ebags.com for hosting such detailed images; and for your patience while we build our pages.
return to top of Beaded Handbag