Fabric Width Conversion Chart
(Sizes/Conversions)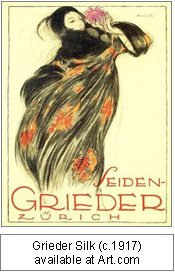 Why deal with the approximations of a Fabric Width Conversion Chart? You have found the perfect selection, which is sold in a 60" width - but your pattern suggests you use a yard of 35" wide goods.
What do you do?
An educated guess is in order, and that is what a such a reference can give you.
It doesn't consider how fanciful you are at laying out pattern pieces, or the need to include motif repeats in the fabric's print;
but it is an excellent quick reference. Many fabric sellers will have such charts in their store, catalog, or on-line glossary.
This page: Fabric Widths
or return to Sizes/Conversions
FABRIC WIDTH CONVERSION CHART
35-36"
44-45"
50"
52-54"
58-60"
1-3/4
1-3/8
1-1/4
1-1/8
1
2
1-5/8
1-1/2
1-3/8
1-1-1/4
2-1/4
1-3/4
1-5/8
1-1/2
1-3/8
2-1/2
2-1/8
1-3/4
1-3/4
1-5/8
2-7/8
2-1/4
2
1-7/8
1-3/4
3-1/8
2-1/2
2-1/4
2
1-7/8
3-3/8
2-3/4
2-3/8
2-1/4
2
3-3/4
2-7/8
2-5/8
2-3/8
2-1/4
4-1/4
3-1/8
2-3/4
2-5/8
2-3/8
4-1/2
3-3/8
3
2-3/4
2-5/8
4-3/4
3-5/8
3-1/4
2-7/8
2-3/4
5
3-7/8
3-3/8
3-1/8
2-7/8
Fabric properties and pattern piece layout affects the amount of fabric you will need for any project.
Pre-treat fabrics before cutting
If you will launder the garment, wash, dry & press the fabric before cutting the pattern pieces. If the garment will be dry-cleaned, either have the fabric dry-cleaned or well steam the fabric at home allowing it to fully dry before laying out your pattern.
Nap Layout may be required
To have the sheen of a fabric's nap run the same way, to position a fabric's motif optimally, or to match plaids you may need to layout your pattern pieces from top to botton running the same way. This is not efficient for conserving fabric, but gived excellent results for a professional appearance with a uniform nap, matched plaids or having motifs in the same direction.
Nap = Fibers that stand up from the fabric weave causing a sheen or texture. (Examples: velvet, synthetic suede, corduroy, flannel, faux fur)
Nap Layout = pattern pieces are laid out on the fabric in the same direction (top to bottom) so all pieces uniformly reflect the fabrics sheen or texture.
Commerical patterns will normally list the amount of fabric needed for a With Nap or a Without Nap Layout.
When planning fabric layouts for your own design, keep in mind the need to layout pattern pieces on the Straight of Grain, (to have the garment hang straight and avoid twist) or, if you choose to add stretch or drape by laying out on the True Bias, indicate so in your planning as this will affect yardage requirements.

Grain = The direction of the woven fibers: warp is the long threads parallel to the selvage, weft are the crosswise threads.
Straight of Grain = Pattern layout lining up the long arrows (on commercial sewing patterns) with the fabric grain. Use a ruler to measure out from the selvage edge to line up your pattern piece with the grain line.
Selvage = the bound, finished edge of a woven fabric.
True Bias = True bias is an angle perpendicular to the grain.

Practice Pattern Layout
You can verify the amount of fabric you need before purchase by marking the expected fabric width on paper or tabletop at home (remember to account for whether you are cutting from a double or single layer). Lay out pattern pieces using the edge of the paper or table as it if were the fabric selvage; then measure the length of goods needed. A quickly drawn sketch can help record your plan.

When is Additional Fabric Needed?
With Nap Layout requires additional fabric as all pattern pieces are laid out on the straight of grain and running from top to bottom. Look for the fabric amount for a "With Nap" layout on commerical patterns or do your own layout planning before fabric purchase.
Fabric Repeat are the distinct repetition of a fabric pattern; the full amount of space on a fabric that it takes for a pattern or design to complete.
Motif is a prominent recurring design element, for which you may wish to plan placement.
Plaid is a fabric design made by crossing lengthwise and crosswise stripes. All plaid fabrics are made of pattern repeats. It is the arrangement of stripes, sizes and colors within a repeat that determines whether the plaid is considered even or uneven. When you work with plaids, you can expect some wasted fabric. Expect to purchase additional fabric to match line up the plaid and cut in single layers.

Where to Learn More
LESSON TWO on Layout and Cutting from the Free Sewing Lessons with Julie Culshaw on the generous Sew Whats New website.
Pattern Layout & Cutting Free lessons online at the non-profit Home Sewing Association's website, Sewing.org
Learn to Sew Basic and intermediate sewing lessons as well as help on pattern fitting from Sewing.org

Where to Find WEARABLE ART Patterns?
The Sewing Place is an extraordinary resource carrying Ambiance linings & Petersham, fabulous embellishment and pattern drafting eBooks from wearable art master Kenneth King (an excellent pattern drafting system!) as well as sewing patterns from the following independent artists:

Akasha Clothing
Brown Paper Patterns
Christine Jonson Patterns
Creative Sewjourn
Cutting Line Designs
Design & Sew
Elements
Encore Designs
Fashion Sewing Group
Favorite Things

Islander Sewing Systems
Kayla Kennington
La Fred
Laughing Moon
LJ Designs
Loes Hinse Design
Lorraine Torrence
Material Things
Neue Mode
Park Bench Patterns

Petite Plus Patterns
Purrfection Patterns
Revisions
RKDC
Sa-T-Pockets
SF Designs
Silhouettes
Textile Studios
The Classics
The Sewing Workshop


Fabric.com In addition to discount fabrics and on-line Sewing Classes, Fabric.com carries artful patterns from MacPhee, ReVisions, The Sewing Workshop, Kwik Sew, Park Bench, LJDesigns, Pavelka, Akasha, Christine Jonson, SewPro, and Amy Butler.

SewingPatterns.com Find the expected commercial patterns from Vogue, Butterick, Simplicity, McCalls and also some independent patterns such as Green Pepper, Material Things, Encore Design, Kayla Kennington, Textile Studio & more.

PatternReview.com PR is a great resource for we who sew clothing for art, for expression, or for practicality. Join PR for an excellent sharing community, thorough reviews of both commercial and independent patterns, as well as plenty of opportunity for knowledge and encouragement.