Books about Beads
Beads of the World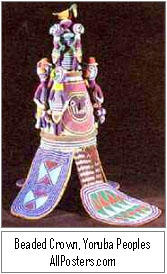 Books about Beads describe the study of beads and their place in the cultures of the peoples who create and value them. To our great benefit, beads have been studied and cataloged for quite some time with well researched books about individual beads, those of certain regions, beads of particular histories, and bead use of all kinds.
Books about beads continue to be of interest because beads are archaeologically and socially important around the globe. Perhaps not so surprising as the beads, as Peter Frances said, are about people.
While visiting Bead Museums, in person or online, seek out their booklists as many
publish stunningly well-researched journals and books about beads. Bead-media takes pleasure in sharing websites that are rich with bead references and imagery. For example, click on the image of the Kiffa bead (left) to view a spectacular strand of these rare beads courtesy of AfricanTradeBeads.com
(to see more, click on their product index button for links to close up views of the extraordinary variety of beads out of Africa today).
There is a tremendous resource in the Center for Bead Research,
a read-only reference website and information-rich destination with a listing of books about beads as well as many articles on beads, including one on Women Bead Researchers. From the more recently published books about beads you can expect vivid photography; some of the older tomes may indicate how many plates (pictures) they contain. If you have a book in mind, need to do a search online or at the Library, check our page on How to Find a Book.
The Bead Collector's Network offers articles on bead history and collectible beads. Their online Bead Forum offers friendly and knowledgeable sharing as well as literally thousands of high-resolution images! Another site of gathering for bead learning is the
Bead Collector's Corner a Yahoo group for people who are interested
in collecting and studying beads and beadwork.
Beads of the World: A Collector's Guide
Peter Francis, Jr.
ISBN 0887405592
Peter Francis, Jr., a pioneer in bead studies, incorporates firsthand knowledge of beads and beadmaking in the field with years of solid, scholarly research. Written to encourage collectors and clarify the origins and uses of beads in their native settings. Beads of organic, stone, and glass are discussed with their origins around the world. Mr. Francis' personal insight and clear explanations are fascinating. Also: Asia's Maritime Bead Trade: 300 B.C. to the Present ISBN 082482332X

Navajo Beadwork: Architectures of Light
Ellen K. Moore
ISBN 0816522863
Navajo Beadwork: Architectures of Light is a history of Navajo beadwork including 38 color plates and 23 artist interviews that explore the creative process, how beadworkers base designs on the light and colors of nature, and the ways in which beadwork imagery incorporates Navajo culture.
Collectible Beads: a Universal Aesthetic
Robert K. Liu
ISBN 0964102307
Robert K. Liu is one of the foremost authorities in the field of collectible beads. He guides an extraordinary tour of collectible beads from around the world. Gorgeous color photos and authoritative text celebrate ancient, ethnographic and contemporary beads. Beads as inspiring symbols of the cultural and spiritual aspirations of every major ethnic group and geographical region. The only book to specify what beads have been marketed and collected during the bead movement's rise over the last two decades.
The History of Beads: From 30,000 B.C. to the Present
ISBN 0810991764
Lois S. Dubin
This book comes in two versions: a concise version and a huge hardcover version. The unabridged version is truly head and shoulders above the paperback 'lite'. The larger tome is a obvious labor of love and knowledge regarding the tiny treasures so revered by the cultures of our world.
Speaking With Beads: Zulu Arts from Southern Africa
Eleanor Preston-Whyte
ISBN 0500277575
The beadwork designs of the Zulu-speaking people of southern Africa have evolved from a craft tradition that developed over many generations. Carefully researched and filled with exciting photographs, 'Speaking with Beads' presents jewelry, ornamental headdresses, capes, aprons, beaded panels and other decorative forms.
Glass in Jewelry
Sibylle Jargstorf
ISBN 0764305328
Glass in Jewelry enables glass and jewelry lovers alike to enjoy the obvious glamour of such jewelry and for the first time to understand and appreciate the hidden brilliance of these little treasures in glass. Illustrated with over 400 full color photographs of examples, the text explains the origins of filigree and alabaster glass, the lovely variety of bead types, artificial gems, glass cameos and incrustations, millefiori, and mosaic jewelry. See also:
Baubles, Buttons and Beads: The Heritage of Bohemia ISBN 8874046774
Glass Beads from Europe: With Value Guide (Schiffer Book for Collectors) ISBN 0887408397
Ethnic Jewelry ISBN 076431145X

Ornaments from the Past: Bead Studies After Beck
Ian Glover, Helen Hughes-Brock, Julian Henderson, editors
ISBN 974-911659-3
Understand that Horace C. Beck (1873-1941) began the formal study of beads found at such archaeological sites as Ur, Nineveh and Taila. Bead Studies after Beck is a book on glass and semiprecious stone beads in history for archaeologists, jewellery historians and collectors. It contains essays from accomplished bead scholars (many who have written books about beads) such as Robert K. Liu, Helen Hughes-Brock, Kalliopi Nikita, Johann Callmer, Torben Sode, St John Simpson, Chris Robinson, Ian Glover, Bérénice Bellina, Margret Carey, John Haigh, and Barbie Campbell Cole. Now you have a great list of bead researchers with which to search the Library!
This book can certainly can be found at the
Bead Study Trust (UK)
to do a search domestically (USA), see
How to Find a Book.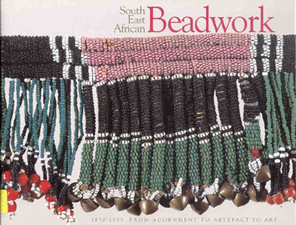 South East African Beadwork
ISBN 1874950520
Wonderfully descriptive review of this book on the website of
Michael Stevenson
(African Art)
Quilt Ethnic has a great list of links on African Beadwork
African Trade Beads (bead seller) has on their website, high-resolution graphics of extraordinary beads from Africa!