Bead Glossary C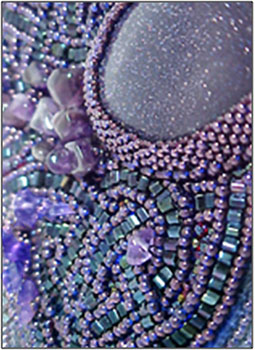 Bead Glossary C continues our descriptions of some of our favorite beads. We don't pretend to be all inclusive, just a taste to encourage pursuit of beads you know and some that may newly inspire. Additional references are listed courtesy of knowledgeable artists and
Bead Sellers who host extraordinary imagery, which is an boon to bead study and inspiring to artists. We recommend reading the bead seller's bead glossary, as they are the most informed about what they present.
No guarantees are implied in any way
for the content or accuracy of the
third-party sites.
A B C D E F G H I J K L M N O P Q R S T U V W X Y Z
Cabachon
Whether you spell it cabochon or cabachon, they are flat-backed and domed. Highly polished with a convex (outwardly rounded) surface, gemstone cabochons have been mounted into jewelry settings for millennia. Rockhounds.com website throughly describes how slices are cut from the rock rough and polished into smooth beautiful gems displaying the incredible colors of stone and rock.


Smooth or faceted cabs are set into jewelry mountings and can also be couched onto clothing, soft sculpture art or sewn jewelry using a stitched seed bead or thread bezel. Some cabs, such as the ones below, are top drilled or side drilled for stringing or jump ring pendants.



Click on the images for large views of gemstone cabochons courtesy of Exotic India Art.
Cabs can be made of any material, including dichroic glass, polymer clay or Precious Metal Clay (PMC) or shell, fossil or coral even acrylic. Round and oval gemstone cabochons are commonly sold in millimeter sizes from quite tiny 3mm or 4mm rounds to 40mm. Look for free form cabs, which artists present in delightfully unexpected shapes and sizes.
Ceylon(finish)
A pearl-like translucent bead finish usually over light and pastel colored beads. The bead itself can be made of a variety of materials or sizes.

Charlottes
1-cut, 2-cut, 3-cut beads are sometimes mistaken for one another. Cut seed beads begin round then had
1, 2 or 3 runs that gave them angles and the ability to reflect light in a whole new way. The Czech Charlotte bead is a 13/0
1-cut bead, with enormous sparkle. They are often sold in short hanks, and if from antiquity (that is, not from the current era) they can be significantly more expensive than other cut seed beads. 2-cut beads are smaller and look a lot like a tiny bugle beads; 3-cut beads are tiny faceted beads, shiny and reflective. Read the bead seller's Bead Glossary carefully.

Chevrons
Refers to both a bead type and bead appearance.
The 7-layer chevron bead of the Venetian's African bead trade was layered and carved into a starburst pattern. The Bead Collector's Network, which is part
of the Picard Bead Museum has a rich on-line gallery and offers scholarly publications describing Chevron bead history.
East of Oz presents images of antique trade & fancy Venetian beads on their website along with their schedule of bead shows. To see the colorful variety of older Chevrons view the extraordinary display on African Trade Beads. Not only a valued bead historically, there are also modern beads made in the Chevron style (now from Africa, India, China) and many other modern bead makers. Bead Artist, Desiree McCrorey, has a wonderfully illustrated tutorial on how to create Chevron beads in polymer clay on her Desired Creations website.
Christmas Beads


Striking bright colors of red, blue, green, yellow (more) beads were made in Italy and Spain for African trade at least 100 years ago. Many Christmas beads are newly strung beads (now from) Africa. To view extraordinary images of Christmas beads (and more) click on the picture, courtesy of Touray Beads. They have a fabulous, high-resolution online gallery of beads so inspirational it will feed your imagination and have you reaching toward an acquisition, or your polymer clay. This opportunity for bead study is one you might want to peruse with your drawing pad and color pencils nearby.
Cinnabar


Natural cinnabar is heavy reddish mineral consisting of mercuric sulfide, the chief source of mercury. Old cinnabar beads were carved of tree resin tinted with cinnabar. Read and see more resources about (old) cinnabar at the
College of Science & Technology at Central Michigan University. Some modern cinnabar beads may be coated carved wood, or beads built of many, many layers of the tree resin-based lacquer carved with beautiful designs. Click on the image of the carved lacquer bead, courtesy of Asia Beads for an up-close view of a variety of Cinnabar shapes and colors.

Color Wheel
Sir Isaac Newton developed the first circular diagram of colors in his series of experiments published in 1672. The color wheel is a useful design tool as it shows the relationship of colors.
There are three primary colors (red, blue, yellow), three secondary colors which are the result of mixing primary colors (purple, orange, green) and the tertiary colors which are a primary color mixed with a secondary color such as red-orange, yellow-green and blue-violet. Complementary (contrasting) colors are directly opposite on the color wheel. When they are mixed together, they will produce grey, but highly interesting when used side by side. Split Complementary is selecting one color then using one from either side of its complementary color, which often provides a more pleasing color scheme than a true complementary. So many ways to approach color and hue, and the more you learn the easier it is develop your own ideas. When working with beads, we also add in the aspects of the shiny and non-reflective finishes, texture and size; is there any wonder why beadwork is so creative?

*There are many books on color theory but The Beader's Guide to Color is a fine place to start.
*It's fun to play with the automated online color wheel at ColorSchemeDesigner.com
*Read more about How to use a Color Wheel at ArtSparx
*Ask Andy About Clothes has a particularly readable explanation of the color wheel and color coordination; and any gentleman (and those who purchase for him) would enjoy his informative website.
We appreciate your patience while we are building our pages...