Bead Glossary B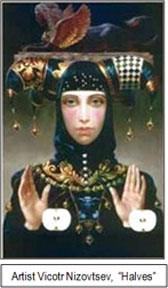 Bead Glossary B continues our descriptive on what do you need to know about beads? Bead names & sizes, shapes and finishes of some of our favorite beads are listed here along with illustrations and resources for viewing images and more.
Our pages are a bead surf excursion that we hope you'll enjoy. It's not all inclusive as we tend toward the beads we've played with most but the glossary will continue to be added to over time. We hope to encourage bead study and inspire your own art.
No guarantees are implied in any way for the content or accuracy of third-party sites.
HOME A B C D E F G H I J K L M
N O P Q R S T U V W X Y Z

Bail (finding)
Small simple or decorative findings for attaching pendants to cord, chain, ribbon or filament; the image is a pinch-type bail. Others styles include loop bails, hinged bails, brooch backs with bails. A bail can also be part
of a pendant. Screw-eyes for half-drilled beads and bead holder pendants for individual beads are bails too.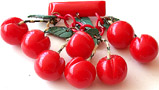 Bakelite
Invented by Leo Baekeland Bakelite (also called catalin) is a cast phenolic resin (a hard moldable plastic), which was used in the automobile, telephone, and radio industries but also dyed, inlayed, and carved into bracelets, amulets, pendants, earrings, beads, buttons and more. Its jewelry and accessory heyday was the Great Depression 1930s, through 1950s and continues very collectable today. The Bakelite bangle is usually what comes to mind, but Bakelite's smooth properties were molded into amazing shapes and presented in many clever combinations. View stacks of Bakelite bangles on the reference pages at Morning Glory Antiques & Jewelry There are many vintage resource tomes but a good place to start is The Bakelite Jewelry Book

Bali Beads
Handmade silver beads decorated with wire originally created in Bali Indonesia. Bali 'style' beads can now be found from Indonesia, Thailand, India and other places. Bali beads are not just rounds, but also cubes, barrels, headpins, cones, clasps, spacers, drops, and earring studs of wondrous variety. They are available at
Bead Shows and are a beautiful enhancement to so many designs.
Nina Designs posts some history about Bali craftsman on their website.
Beads
To some, beads are small items with holes that can be strung as jewelry. Who would not agree? But that definition leaves out those interesting bits that can be sewn, set, glued and couched or dangled by other means. Whether you prefer the conservative view of strung beads or believe beads are just about any found object, most agree beads are a delight.

Bees Wax
(thread conditioner)
A natural wax produced in the hive of honey bees and usec to condition beading thread so that it tangles less and therefore made easier to work with.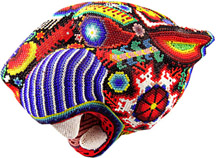 Bees Wax (beading technique)
As an example: Huichol Beadwork.
The Huichol people of Jalisco and Nayarit Mexico use incredible patience and a needle to place seed beads in bees wax over carved wood producing magnificent patterns used to document their spiritual knowledge. "To understand the significance of Huichol art, one must understand what has enabled them to survive" Read about the Huichol and their very personal art in detail on the
Huichol resources pages on Mexico Connect. Dick Blick Art Supplies has a free lesson plan or follow your own inspiration using
Sculpture House Microcrystalline Wax

Bells
Dancing bells, gypsy bells, cluster bells are all silent bell-like dangles. Very pretty, but if you do want the sound, the bell will be of metal and have has some kind of clapper. Jingle bells, for example, have a ball clapper.

Briolette
Both a shape and a style of faceting (gemstone cutting) Briolettes are usually an oval or pear shape drop bead (top drilled or side drilled) with its entire surface cut in angular facets for a beautiful sparkle. Briolette cuts are found in almost all gemstones. Click on the graphic right, to view high resolution images of briolettes at Vitabeads.com and click on the briolettes of peridot, iolite, and onyx to see large images at ExoticIndiaArt.com. Briolette refers to the faceted cut, not a color or size.
Read about the famous diamond Briolette of India to view an extraordinary faceted stone! Like many reflective beads, a briolette may have enhancements added such as being fire polished or the addition of an Aurora Borealis finish (which should be clearly indicated). Shapes can vary from the traditional teardrop, as can the precision of the faceting. Be sure to note whether the beads are side drilled, top drilled or not drilled at all.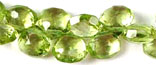 We appreciate your patience as we re-load our pages.