Lazertran Transfer Papers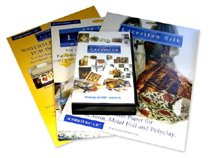 Lazertran is an amazing new type of transfer paper. Easy to use with many applications in bead embroidery, bead making and other arts, crafts, home decorating and more.
As a transfer paper, this is a particularly novel product. It enables you to add your unique design or any image to a multitude of surfaces including fabric, polymer clay, paper, ceramic, glass, stone, metal, foil, painted surfaces, plaster, or wax. You can print or copy any image onto the special paper, trim it, soak in water, and then apply - the image literally slides off the paper.
This link will bring you directly to the Lasertran page at Mister Art
And you can select among the 3-types of Lazertran Transfer paper:
Regular Lazertran is meant for use with color copiers;
Lazertran for Inkjet is to be used with inkjet printers only (not for use with laser or bubblejet printers).
Lazertran Silk can be used to apply transfers to fabric, metal foil, or polymer clay; for use with either color copiers or laser printers.
Instructional Video with tips and project ideas is also available.
We have some wonderful books about Lazertran to list, but we're struggling with the images; they'll be up here very soon.

return to top of Lazertran